Sustainability at the core of our operations
Asuntosäätiö's sustainability programme
Sustainability and corporate responsibility are at the heart of everything we do and are included in our core values. Our sustainability programme brings together plans and measures to promote sustainability and corporate responsibility, the implementation of which is monitored annually. With a materiality analysis, we have identified the elements that are of particular importance to our stakeholders and that we can most influence with our actions.
Asuntosäätiö's sustainability programme is divided into four themes, united by Asuntosäätiö's original mission: A good home for everyone. We have linked each theme with the UN Sustainable Development Goals (SDGs), which we are committed to supporting.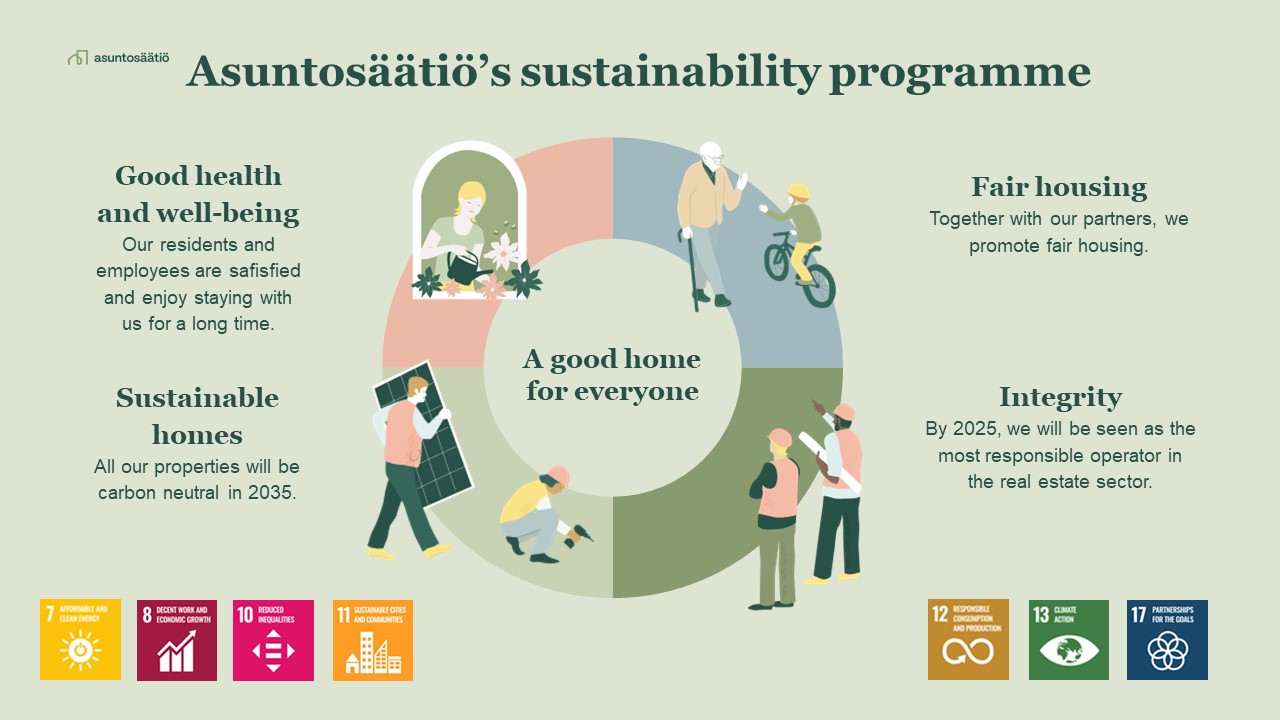 Good health and well-being
Our residents and employees are satisfied and enjoy staying with us for a long time.
We take into account the different needs of people in housing and work in close cooperation with our residents. We respect diversity, we meet people openly and kindly, and offer efficient services. Our employees are happy and healthy, develop their professional skills and feel that their work is meaningful.​
Together with our partners, we promote fair housing.
We work for equality in society by providing high-quality and affordable housing for as many as possible. We develop comfortable, sustainable and communal living environments, taking into account people's different needs and life stages.​
All our properties will be carbon neutral in 2035.
We respond to climate change by reducing CO2 emissions caused by our operations and developing our climate work with our partners. We reduce energy consumption, favour renewable energy sources and promote a circular economy. We help our residents act sustainably in their everyday life.
By 2025, we will be seen as the most responsible operator in the real estate sector.
We operate transparently and we expect the same from our partners. Our operations promote responsible construction and procurement, and we carefully select our partners. We do our part to promote human rights and responsible business in the real estate and construction sectors.